April 1863 Document Endorsement Signed by Union Generals Joseph Hooker and Adolph von Steinwehr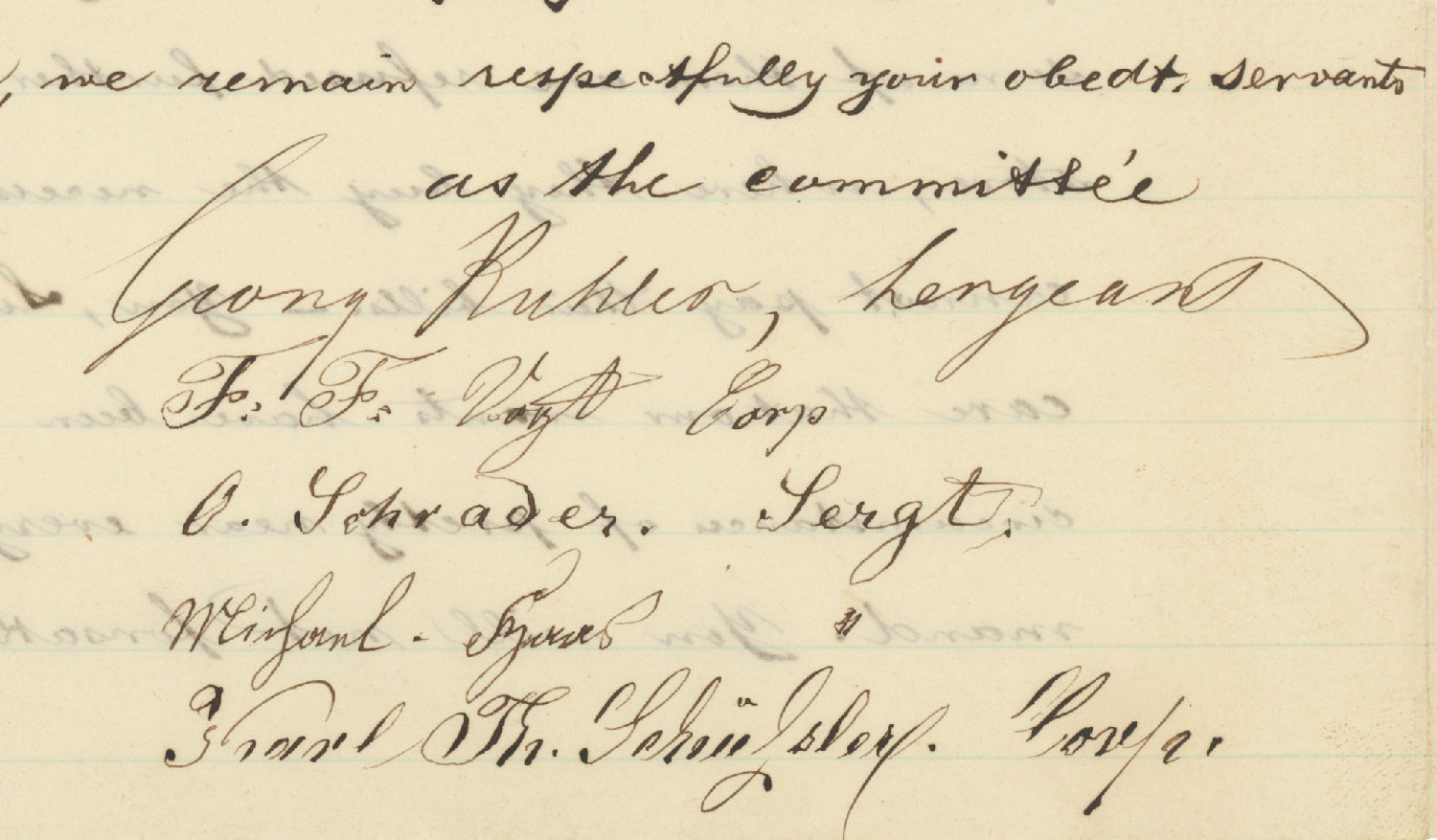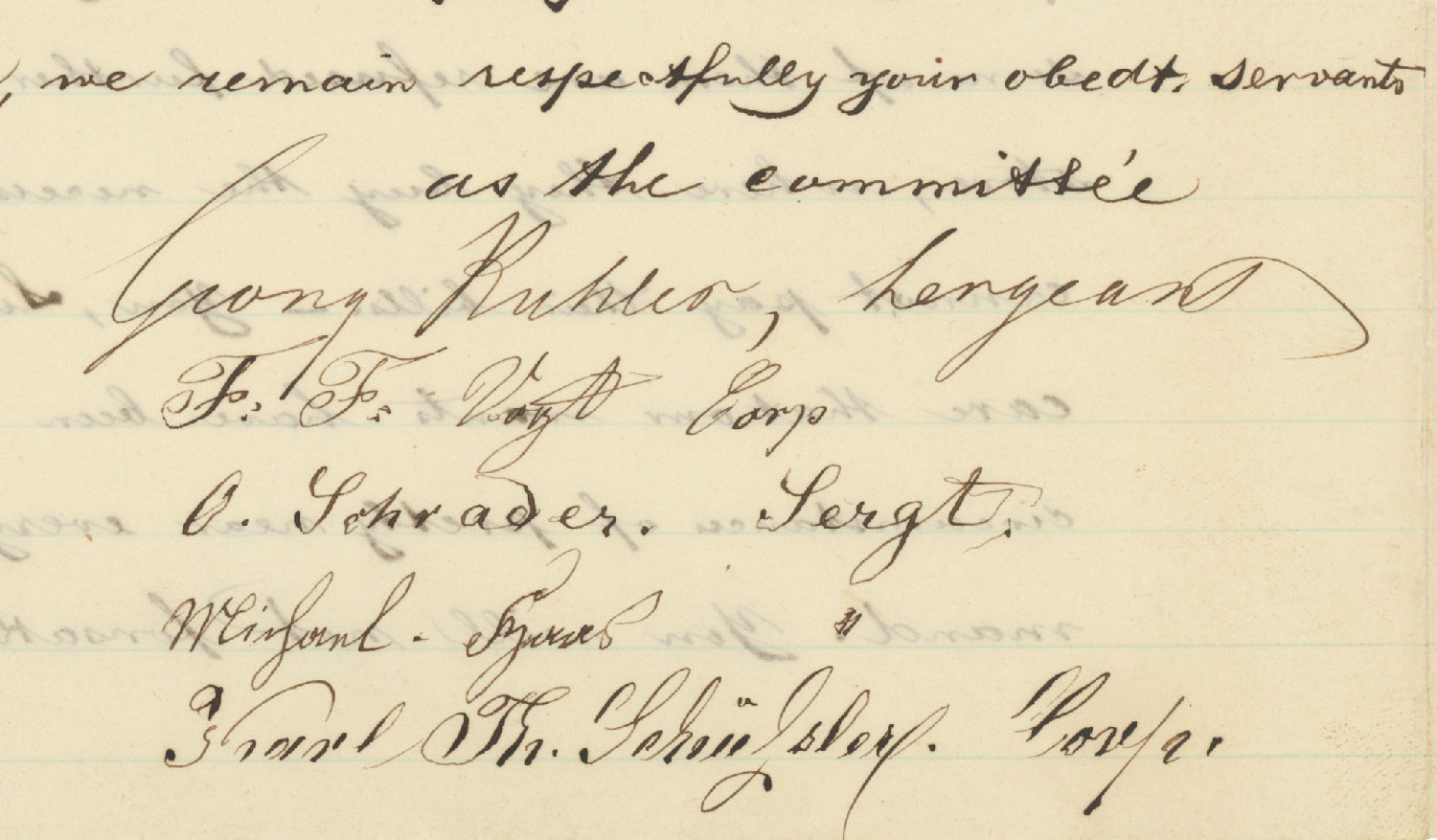 sold out
April 1863 Document Endorsement Signed by Union Generals Joseph Hooker and Adolph von Steinwehr
Item No. 3743837
A very interesting April 1863 document endorsement-signed by General Joseph Hooker as commander of the Army of the Potomac and General Adolph von Steinwehr, then in temporary command of the 11th Corps. The document is an appeal by several non-commissioned officers of the 2nd New York Independent Battery that the men of the battery be paid. They report that the other regiments and batteries of the corps had been paid, and that the oversight had caused problems for the men at home as well as in camp. In addition to the Hooker and von Steinwehr endorsements, the document was also endorsed by Lieutenant Herrmann Jahn, commanding the battery, as well as other officers in the paymaster department. The document reads, in part:
To the first Lieutenant H. Jahns, commanding 2nd Indep. Horse Battery

We the undersigned Sergeants, Corporals, Cannoniers & Drivers of this Battery respectfully lay before you as commanding officer and friend of the soldier our grievance of not having been paid for the last 7-8 months. This as you well know is a great detriment to our families at home, as the most of them depend on our support. Some of us receive letters every week from their wives and children, complaining bitterly about not getting any money from us, as pretty near all the rest of the regiments & batteries belonging to this Army Corps have been paid and sending money home. There have been ages where the family has been turned out of their home because they could not pay their rent, some of them are refused further credit at the grocery store, where they buy the necessaries of life, because they cannot pay their bills. You, Sir, have always taken care that our wants have been seen to, knowing the circumstances of pretty near every one under your command. You will not forsake us, but take our part in procuring our hard earned dues. Yes we have fought together on many a bloody battle field, we have laid down our lives for this country and are willing to defend this glorious cause to the last; but we hope that the proper authorities will also see how just our claims are and it must certainly lessen our ardor for the cause to know that our families at home have to suffer for the want of the necessaries of life.

We once more respectfully request you to make yourself acquainted with the cause of the delay & if possible to get our pay at once as we all need it very much. Hoping, Sir, you will be successful, we remain respectfully your obedt. servants as the committee
George Ruhler, Sergeant
F[riedrich] F. Vogt, Corp.
O[tto] Schrader, Sergt.
[Illegible signature]
[Illegible signature]
Wm Kalt, Corpl.

I endorse with all my heart the justness of their just claims & respectfully forward to you for your kind consideration.
Respectfully,
H[errmann] Jahn, 1 Lieut
Comdg Battery 2 NY
The NCOs' appeal was written on four pages of a stationery sheet measuring about 7 3/4" x 9 3/4". Even toning throughout. There are a couple very small remnants from previous mounting. Creased where originally folded.